TeamMates Mentoring Program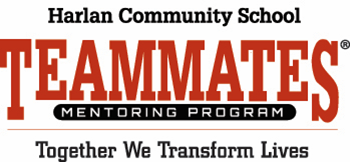 The mission of the TeamMates Mentoring Program is to positively impact the world by inspiring youth to reach their full potential through mentoring. Dr. Tom and Nancy Osborne founded the program in 1991 in an effort to provide support and encouragement to school aged youth. The goal of the program is the see youth graduate from high school and pursue post-secondary education. To reach this goal, youth meet one hour per week in the school setting with a caring adult who serves as a volunteer mentor.

The Harlan Community TeamMates chapter has served Harlan Community Schools since 2011. Harlan Community TeamMates nominations come from teachers, parents, and counselors for students enrolled in 4th-7th grades. Students are nominated on the basis of their potential, their ability to work to success with an adult volunteer, and for the extra encouragement a mentor can provide. Students and mentors are carefully matched. Mentors must pass a background check and complete the necessary training.

Although students and mentors meet at school during school hours, we work hard to provide the flexibility mentors need, with varying days and schedules. Mentors are asked to meet consistently, but are not expected to meet every week. Mentors and students talk, read, play provided board games, go for walks on school grounds, throw a ball, shoot hoops, work on hobbies, crafts, baking, or studies. They attend group events with parent approval. They do not have private meetings outside of school.

Mentors are needed now at Harlan Community Schools.
To volunteer in the TeamMates program or for more information go to www.teammates.org for an on-line application or contact Courtney King-Crum at 712-755-2725 or ckingcrum@hcsdcyclones.com.

APPLY ONLINE TODAY to be a TeamMates mentor!